Read what some of Tim's students have to say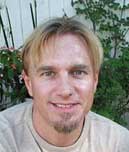 As a teacher, I have guided many students to successfully advance their skills on the guitar. I love the way teaching was described by master trumpeter and longtime teacher William Vacchiano (teacher to Miles Davis and Wynton Marsalis, among many others). He said... "To me, teaching is like what a painter does. As a teacher, I see each student as a great piece of art. Each student comes in, more or less raw or green. In each student I can reproduce myself, you might say, and create great artists." That is what a master teacher does. Here are what some of my students have to say to you...
"Tim, What a fantastic lesson this week. I'm always amazed at how you are so prepared to react when I come to a lesson and change directions on you. I don't know if its because you are so experienced or because you're thinking a few steps ahead of me. Either way, that's what makes your instruction so great. You can gently ( or firmly, if required) correct my errors, lead me where I need to go and adapt so quickly when I make a no-notice turn on you, like this past lesson. What a feast of techniques and possibilities you laid out before me, and with absolutely no advance warning. I am still extracting all the gems from the recorded lesson and probably will be doing so for months. These recorded lessons are a reference I will be referring back to for years. I leave every lesson with a new set of tools and a new dose of enthusiasm. You're simply terrific. Thanks again."
Ron Harris
"Tim is a great guitar player but more importantly to me he's a great teacher. I've been playing for a long time and had hit a long-term plateau. Tim organized my goals and established a lesson plans specifically designed to meet those goals. He taught me exactly what I wanted to learn. He loaded my up with tons of material; a few months of material from Tim will easily keep me busy for a year. Hearing Tim play and record the material right there in his teaching studio is so motivating. His use of technology rocks, such as recorded examples, backing tracks etc. His teaching studio is state of the art. Bottom line…Tim makes me a better guitarist."
Frank Pratte
"The world of music is filled with hype HOWEVER Tim is the real deal. He markets his guitar instruction as the best in San Diego. I believe he is the very best teacher in Southern California...and probably one of the best musicians as well. He likes to teach and he has the patience and knowledge to do so with great expertise.
"This testimonial might only be insightful to guitar novices. As of this writing, I've played guitar for just under 10 months. I had a teacher when I first started, but switched to Tim after one month of total confusion. I am very glad I switched otherwise I probably would have thrown in the towel early on.
"I have played guitar for over 20 years, and I have been a student of Tim's (on and off) for the last 10 years. Tim was recommended to me by a friend and fellow guitar enthusiast, about 10 years ago when my previous instructor left San Diego.
"I have benefited greatly from lessons with Tim. I have been playing for many years and his ability to break down techniques and theory into easily understandable basics has made learning much easier. His patience and ability to help me improve have been great and the rest is up to me. There is always much to learn on the guitar. I highly recommend Tim for students at any level."
Ron Horvitz
"Tim is by far the best teacher I've ever had. He is extremely knowledgeable and diverse in every aspect of music. He has the ability to structure a program specific to each student's individual goals. In addition to his amazing playing ability he's also super cool guy. I highly recommend him for anyone interested in becoming a better musician."
Colin Farnell
"I would never have believed the speed at which I am learning. Tim is enthusiastic at each and every lesson and shows interest in how I am progressing. He will put more on your plate than any other guitar instructor, and you will learn it faster than with any other guitar instructor. I am always looking forward to my next lesson."
Matt Ward
"I was reluctant at first when choosing a guitar teacher, because I was looking for one who knew his stuff and at the same knew how to convey knowledge to his students. Tim is that and much more. I am really grateful to have found him, because in him, I have found not only a teacher, but really, a music mentor, who I could talk about any aspect of music that was on my mind, and he would be able to add to it nicely.
"Tim Quinn is San Diego's own 'Guitar Guru'! I am a serious guitar player, and even play professionally sometimes. I studied guitar with four other teachers before I met Tim. Now, after studying with Tim for two years, those previous teachers seem like amateurs in comparison. Tim seems to be a master of all guitar styles, a professional performer with serious chops (jazz, rock, shred, blues, country, acoustic fingerstyle, etc.), and a master teacher on the level of a college professor.
"I'm getting a late start in life with the guitar (I'm 58), with no legitimate playing experience. Fortunately, I met Tim, and I'm having a great time learning to play. I am surely slower than most, with minimal rhythm and less than flexible digits…but Tim always supports my efforts with unlimited patience, understanding, and enthusiasm. My buddies can't believe my accomplishments in a few short months!
"Tim, your knowledge of all types of guitar is amazing. You have taken me from having an interest in playing the guitar, and instilled the desire to become a true musician. For this, I owe you everything. As an instructor, you always gave me musical pieces of progressing difficulty, without any unreal expectations. In one summer, I accomplished more than I thought I would in a few years, which can definitely be attributed to your talent as a teacher and a musician."
Andrew Krause