Read what some of Tim's students have to say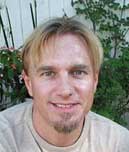 As a teacher, I have guided many students to successfully advance their skills on the guitar. I love the way teaching was described by master trumpeter and longtime teacher William Vacchiano (teacher to Miles Davis and Wynton Marsalis, among many others). He said... "To me, teaching is like what a painter does. As a teacher, I see each student as a great piece of art. Each student comes in, more or less raw or green. In each student I can reproduce myself, you might say, and create great artists." That is what a master teacher does. Here are what some of my students have to say to you...
"Hello Future guitarists. I first picked up the guitar a year ago with the hopes of an attempt to teach myself the basics through CD's and how-to guides and at times felt a little progress, but with time knew I needed a mentor, so I wrote out a list of characteristics I felt a qualified teacher should posses, to say the least my list was long and demanding. I'm in the military and details are my business.
"This testimonial might only be insightful to guitar novices. As of this writing, I've played guitar for just under 10 months. I had a teacher when I first started, but switched to Tim after one month of total confusion. I am very glad I switched otherwise I probably would have thrown in the towel early on.
"Tim, you are hands-down the best guitar teacher in San Diego. After studying with you for over a year, I can honestly tell you that last month I tried a few other teachers. I did this strictly because of money, as my disposable income is tight right now. After trying 4-5 other teachers there is just no comparison. It wasn't even close!
"I'm getting a late start in life with the guitar (I'm 58), with no legitimate playing experience. Fortunately, I met Tim, and I'm having a great time learning to play. I am surely slower than most, with minimal rhythm and less than flexible digits…but Tim always supports my efforts with unlimited patience, understanding, and enthusiasm. My buddies can't believe my accomplishments in a few short months!
"I have been playing the acoustic guitar for 20 years now and still find myself somewhere between basic and intermediate skill levels. Over the years I have briefly tried many teachers for a few lessons here and there, but never found anyone that sparked my interest in becoming a better player; that is until I met Tim.
"I have been taking guitar lessons from Tim for over a year now. My previous teacher was also an excellent teacher, but his first priority was performing. With Tim, I feel that he loves to teach, is dedicated to teaching guitar, and that I'm more than just a financial necessity for his "night" job. Two things that I really like about working with Tim are: 1) His use of technology to enhance my learning and practice; and 2) His flexibility to "change gears", as I learn more about what I like in music.
"Tim is a great guitar player but more importantly to me he's a great teacher. I've been playing for a long time and had hit a long-term plateau. Tim organized my goals and established a lesson plans specifically designed to meet those goals. He taught me exactly what I wanted to learn. He loaded my up with tons of material; a few months of material from Tim will easily keep me busy for a year. Hearing Tim play and record the material right there in his teaching studio is so motivating. His use of technology rocks, such as recorded examples, backing tracks etc. His teaching studio is state of the art. Bottom line…Tim makes me a better guitarist."
Frank Pratte
"Tim Quinn is the best guitar teacher that I have studied with. I have taken lessons from a few others, but Tim is by far the most knowledgeable, the most organized, and the best teacher. He can teach any style of music with expertise. I think that his best attributes are that he is really caring and has a very systematic approach to teaching. Based on my experience when looking for a guitar teacher, it is important to not only learn from a master player such as Tim, but also to learn from someone who knows how to transmit that knowledge to you. Tim has advanced my playing in many, many ways. He is worth every penny."
Mike Marabeas
"I have benefited greatly from lessons with Tim. I have been playing for many years and his ability to break down techniques and theory into easily understandable basics has made learning much easier. His patience and ability to help me improve have been great and the rest is up to me. There is always much to learn on the guitar. I highly recommend Tim for students at any level."
Ron Horvitz
"My son has taken a mere 6 lessons with Tim and undoubtedly learned more during those lessons than in his previous three years of guitar lessons. As an award-winning, veteran teacher (myself), I recognize good teaching. Tim is a professional and encouraging teacher. He is extremely organized, and the lessons are structured to fit the needs and desires of the student.
"Tim is by far the very best guitar instructor I have ever encountered. His knowledge and technical skills are amazing, and he puts in many extra hours (at no charge) preparing for his lessons. As an example, Tim has transcribed numerous songs upon request for me. His transcriptions are accurate and easy to read. Thanks to Tim, I can now play several songs that I never thought I would be able to play. Tim can teach any style of guitar playing, and has an excellent understanding of music theory. Tim is also a very nice guy."
Guy McRoskey
"I feel privileged to have studied with a teacher that has the breadth and depth of musicianship to fully embrace a wide variety of styles, including Rock, Blues, Slide, Jazz, Country, Finger-style, and Classical genres. Tim uses published and original materials, personal transcriptions, and customized studies to convey ideas; his lessons aren't just something "off the shelf" from a music store. He continually worked to find what motivated me, helped shape musical goals, re-awakened an interest in Jazz, and inspired me to dig deeper into all aspects of music. Those studies directly helped with advanced placement at LA Music Academy."
Kevin Sven Berg