Read what some of Tim's students have to say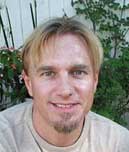 As a teacher, I have guided many students to successfully advance their skills on the guitar. I love the way teaching was described by master trumpeter and longtime teacher William Vacchiano (teacher to Miles Davis and Wynton Marsalis, among many others). He said... "To me, teaching is like what a painter does. As a teacher, I see each student as a great piece of art. Each student comes in, more or less raw or green. In each student I can reproduce myself, you might say, and create great artists." That is what a master teacher does. Here are what some of my students have to say to you...
"The world of music is filled with hype HOWEVER Tim is the real deal. He markets his guitar instruction as the best in San Diego. I believe he is the very best teacher in Southern California...and probably one of the best musicians as well. He likes to teach and he has the patience and knowledge to do so with great expertise.
"I have benefited greatly from lessons with Tim. I have been playing for many years and his ability to break down techniques and theory into easily understandable basics has made learning much easier. His patience and ability to help me improve have been great and the rest is up to me. There is always much to learn on the guitar. I highly recommend Tim for students at any level."
Ron Horvitz
"Hello Future guitarists. I first picked up the guitar a year ago with the hopes of an attempt to teach myself the basics through CD's and how-to guides and at times felt a little progress, but with time knew I needed a mentor, so I wrote out a list of characteristics I felt a qualified teacher should posses, to say the least my list was long and demanding. I'm in the military and details are my business.
"I had been playing guitar for 9 years before I met Tim and I was in a blues rut. Being mostly self-taught, I only excelled at blues. The idea of learning how to play fluid jazz like my heroes Wes Montgomery, Pat Martino and Kenny Burrell was just a distant dream. That is, until I found Tim.
"Tim Quinn is the best guitar teacher that I have studied with. I have taken lessons from a few others, but Tim is by far the most knowledgeable, the most organized, and the best teacher. He can teach any style of music with expertise. I think that his best attributes are that he is really caring and has a very systematic approach to teaching. Based on my experience when looking for a guitar teacher, it is important to not only learn from a master player such as Tim, but also to learn from someone who knows how to transmit that knowledge to you. Tim has advanced my playing in many, many ways. He is worth every penny."
Mike Marabeas
"Tim is by far the best teacher I've ever had. He is extremely knowledgeable and diverse in every aspect of music. He has the ability to structure a program specific to each student's individual goals. In addition to his amazing playing ability he's also super cool guy. I highly recommend him for anyone interested in becoming a better musician."
Colin Farnell
"Before writing this testimonial about Tim Quinn, I decided to read others already posted on Tim's website. If you are not already a student of Tim's, the superlatives might sound like exaggerated comments from enthusiastic students. They are not. I have played guitar on-and-off for a number of years. Focus on family and work had kept me from seriously pursuing this passion of mine. I now have the best of all worlds, free time and the finest guitar teacher in San Diego or perhaps southern California.
"I feel privileged to have studied with a teacher that has the breadth and depth of musicianship to fully embrace a wide variety of styles, including Rock, Blues, Slide, Jazz, Country, Finger-style, and Classical genres. Tim uses published and original materials, personal transcriptions, and customized studies to convey ideas; his lessons aren't just something "off the shelf" from a music store. He continually worked to find what motivated me, helped shape musical goals, re-awakened an interest in Jazz, and inspired me to dig deeper into all aspects of music. Those studies directly helped with advanced placement at LA Music Academy."
Kevin Sven Berg
"Tim Quinn, of Quinn Guitar Instruction, is a very competent and patient guitar instructor. While Tim teaches just about every style of guitar playing, my requirement was nylon string guitar with an emphasis on classical pieces. Not only is Tim very accomplished at this style, he also had a wealth of written music and instruction for me. Regardless of your skill level or musical taste, Tim can provide you with quality, customized instruction. Plus, Tim's a really nice guy."
Paul Catano
"I'm getting a late start in life with the guitar (I'm 58), with no legitimate playing experience. Fortunately, I met Tim, and I'm having a great time learning to play. I am surely slower than most, with minimal rhythm and less than flexible digits…but Tim always supports my efforts with unlimited patience, understanding, and enthusiasm. My buddies can't believe my accomplishments in a few short months!
"I was referred to Tim by a reliable source, and Tim has more than met my expectations for guitar instruction. It's one thing to be capable of playing most any style of guitar, and it's another to be a good teacher and mentor; the two are just not one and the same. Fortunately, Tim is both. Tim breaks things down for you into parts and pieces that are easy to digest and then helps you to see how that is going to fit into the bigger picture later. Whatever your interests are, (shredding, finger-picking, jazz, etc.) Tim is going to get you going in the direction that you need to achieve those ends.
"I have played guitar for over 20 years, and I have been a student of Tim's (on and off) for the last 10 years. Tim was recommended to me by a friend and fellow guitar enthusiast, about 10 years ago when my previous instructor left San Diego.