Read what some of Tim's students have to say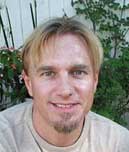 As a teacher, I have guided many students to successfully advance their skills on the guitar. I love the way teaching was described by master trumpeter and longtime teacher William Vacchiano (teacher to Miles Davis and Wynton Marsalis, among many others). He said... "To me, teaching is like what a painter does. As a teacher, I see each student as a great piece of art. Each student comes in, more or less raw or green. In each student I can reproduce myself, you might say, and create great artists." That is what a master teacher does. Here are what some of my students have to say to you...
"The world of music is filled with hype HOWEVER Tim is the real deal. He markets his guitar instruction as the best in San Diego. I believe he is the very best teacher in Southern California...and probably one of the best musicians as well. He likes to teach and he has the patience and knowledge to do so with great expertise.
"I have benefited greatly from lessons with Tim. I have been playing for many years and his ability to break down techniques and theory into easily understandable basics has made learning much easier. His patience and ability to help me improve have been great and the rest is up to me. There is always much to learn on the guitar. I highly recommend Tim for students at any level."
Ron Horvitz
"Tim is by far the best teacher I've ever had. He is extremely knowledgeable and diverse in every aspect of music. He has the ability to structure a program specific to each student's individual goals. In addition to his amazing playing ability he's also super cool guy. I highly recommend him for anyone interested in becoming a better musician."
Colin Farnell
"I was reluctant at first when choosing a guitar teacher, because I was looking for one who knew his stuff and at the same knew how to convey knowledge to his students. Tim is that and much more. I am really grateful to have found him, because in him, I have found not only a teacher, but really, a music mentor, who I could talk about any aspect of music that was on my mind, and he would be able to add to it nicely.
"Tim is by far the very best guitar instructor I have ever encountered. His knowledge and technical skills are amazing, and he puts in many extra hours (at no charge) preparing for his lessons. As an example, Tim has transcribed numerous songs upon request for me. His transcriptions are accurate and easy to read. Thanks to Tim, I can now play several songs that I never thought I would be able to play. Tim can teach any style of guitar playing, and has an excellent understanding of music theory. Tim is also a very nice guy."
Guy McRoskey
"Tim, your lessons did more for me than studying out of the Julliard book in college for two years straight and taking tons of private lessons from other teachers before that. I got so much out of our time together; thanks for being so dedicated and helping me reach my goals. After I stopped taking lessons with you, I got into Eek-A-Mouse, a pretty big headlining reggae band. First show we played: Mandalay Bay Hotel and Casino in Vegas - sold out, and we rocked it too!
"My name is Carlos A. Alvarez. I'm a 29 year old, Mexican guy, with an accent. This is my experience with Tim Quinn. Tim: Your patience and profound diligence toward the guitar student is second to none. I always felt as if you took us by the hand and led us to a road of enlightenment. After a few lessons with you, I could already see how you would easily direct my path in conquering the guitar. I never thought I could memorize the different scale patterns and play all over the fretboard, let alone improvise. I am still progressing in guitar playing and I owe it all to you.
"My son, Max, and I have had the privilege of studying guitar under Tim Quinn for the past 14 months, having previously taken lessons together for five years. Following a rigorous and thorough approach to identifying the ideal guitar teacher, I consulted Fred at the Repair Zone as I valued his professional opinion based on his experience interacting with countless guitarists. Fred unequivocally recommended Tim and, after interviewing Tim and carefully scrutinizing his comprehensive website, I made the right choice.
"Tim is a great guitar player but more importantly to me he's a great teacher. I've been playing for a long time and had hit a long-term plateau. Tim organized my goals and established a lesson plans specifically designed to meet those goals. He taught me exactly what I wanted to learn. He loaded my up with tons of material; a few months of material from Tim will easily keep me busy for a year. Hearing Tim play and record the material right there in his teaching studio is so motivating. His use of technology rocks, such as recorded examples, backing tracks etc. His teaching studio is state of the art. Bottom line…Tim makes me a better guitarist."
Frank Pratte
"I would never have believed the speed at which I am learning. Tim is enthusiastic at each and every lesson and shows interest in how I am progressing. He will put more on your plate than any other guitar instructor, and you will learn it faster than with any other guitar instructor. I am always looking forward to my next lesson."
Matt Ward
"I was referred to Tim by a reliable source, and Tim has more than met my expectations for guitar instruction. It's one thing to be capable of playing most any style of guitar, and it's another to be a good teacher and mentor; the two are just not one and the same. Fortunately, Tim is both. Tim breaks things down for you into parts and pieces that are easy to digest and then helps you to see how that is going to fit into the bigger picture later. Whatever your interests are, (shredding, finger-picking, jazz, etc.) Tim is going to get you going in the direction that you need to achieve those ends.
"Tim Quinn is the best guitar teacher that I have studied with. I have taken lessons from a few others, but Tim is by far the most knowledgeable, the most organized, and the best teacher. He can teach any style of music with expertise. I think that his best attributes are that he is really caring and has a very systematic approach to teaching. Based on my experience when looking for a guitar teacher, it is important to not only learn from a master player such as Tim, but also to learn from someone who knows how to transmit that knowledge to you. Tim has advanced my playing in many, many ways. He is worth every penny."
Mike Marabeas